Structures
The invisible forces that help maintain the status quo
Welcome to the 53 new folks who have joined us since the last post!
If you're reading this but haven't subscribed, you may want to consider doing that. This will ensure future posts land straight in your inbox!
---
Until I came to North America I never really thought of myself as a Person of Color. I had spent the first 26 years of my life in India and my upper-caste middle-class life kept me in a bubble shielded from the idea of feeling like "the other". Of course, being born female in India and experiencing life as one was not the same as being born male and going about life (another conversation for another day) but still I was in a protected cocoon and maybe somewhere lacked true empathy for people who were "below me" on the social totem pole! 
Coming to North America changed this. Another layer was added to me. A person of color. I did not change but the way I was viewed changed. I call Toronto home and the last four years here have been wonderful but I have still experienced mild covert racism ("OMG your English is so great and you just came", "But where are you REALLY from?", "Hey thanks for the invite to the Diwali party but I do not have an Indian costume, you know where I could get it from?"). Initially, I would laugh it off, roll my eyes or do some combination of the two but recently I have started addressing this head-on - using it as an educational opportunity and explaining to folks why these comments are problematic. Another thing that I have started doing is educating myself on racism (happy to share my reading list). 
One of the books that I recently finished reading is White fragility by Robin Diangelo. The entire premise of her book is that racism is a structure and not an isolated event. Racism is not discrete acts committed by individual people, rather it is a complex interconnected system. 
The idea was so simple. More often than not it is the systems and structures that help maintain the status quo and if we don't look at the problem in entirety we can reach wrong conclusions. 
Take for example the case of women and sports. A lot of men that I talk do believe that a big reason why women's professional sports are not as popular as men's is that inherently women's sports are not as competitive and that draws a fewer audience. The lack of demand is always used as a defense for the gigantic pay gap in women's and men's sports. ( Example Hegerberg tops the list of highest-paid female footballers, with an annual income of US$431,337, while Messi, the highest-earning male footballer, earns US$140 million each year. Hegerberg is paid 0.3% of what Messi is paid). 
But what if there was another reason? What if structures and systems were put in place that led one of the most gender unequal industry in the world. 
I present to you the story of the Dick Kerr Ladies. (Well actually Gail J. Newsham told their fascinating story in her book In a League of Their Own! the Dick, Kerr Ladies)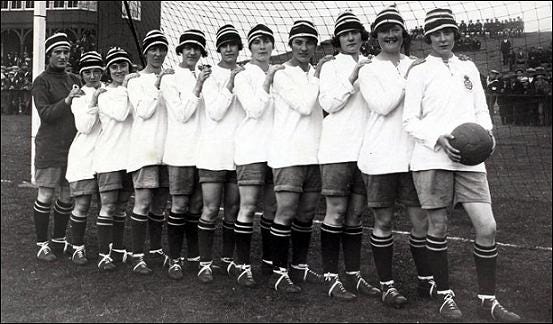 The story begins during World War 1 in Preston, England at a factory that made railway locomotives called Dick, Kerr. Most of the men at that time were off fighting at the front and women were brought into factory work. During a period of low production at the factory in October 1917, women workers joined the apprentices in the factory yard for informal football matches during their breaks. One day, the women decided to challenge the men to a game of football (soccer). After beating the men of the factory, the women of Dick, Kerr formed a team, under the management of office worker, Alfred Frankland.
The team drew a crowd of 10,000 on Christmas day in 1917 and by Boxing Day of 1920, their match against St. Helen's Ladies at Goodison Park, Liverpool drew a crowd of 53,000 spectators!! It is documented that during this period, women's football drew in sizeable crowds and raised significant amounts of money for charity (Griggs & Biscomb, 2010). 
By 1922 there were approximately 150 women's teams in operation, playing regular games, even-though they did not have a formal league structure. Seeing how popular women's football was becoming the owners of the men's professional teams felt threatened - If women's football became popular and could continue attracting such crowds, it would take revenue away from the men's professional team.
This group persuaded the F.A.(Football Association in England, the governing body of football which was founded in 1863) to pass a resolution which read as follows:
"Complaints having been made as to football being played by women, the council feels impelled to express their strong opinion that the game of football is quite unsuitable for females and ought not to be encouraged. For these reasons, the council requests the clubs belonging to the association to refuse the use of their grounds for such matches." 
The FA formally banned women playing at FA grounds on 5 December 1921. The ban was supposed to last until 29 November 1971.
FA was the most powerful football body in the world and so had great influence on FIFA too. This lead to women's football being banned in other countries too - For example, the German Football Association (DfB) rejected women's participation in football for ethical and physiological reasons, arguing football would impede a woman's ability to bear children. Essentially, any organization that was associated with FIFA was not allowed to let women use their facilities. This completely killed women's football. For half a century, hardly any girl or woman played football.
Many of the current challenges faced by women's football originate from the 19th century. Structures were put in place by those who controlled the system to kill women's football.  
The lesson here is that complex problems need a system level understanding of the issue in its entirety. If you don't do that you will end up with misplaced conclusions.
If you look very closely at just one wire in the cage, the bird cage, you cannot see the other wires. If your conception of what is before you is determined by this myopic focus, you could look at one wire up and down the length of it and be unable to see why a bird would not just fly around the wire anytime it wanted to go somewhere. It is only when you take a step back, stop looking at the wires one-by-one microscopically, and take a macroscopic view of the whole cage that you can see why the bird does not go anywhere, and then you will see it in a moment.
Marilyn Frye,  American philosopher
---
I would love to hear from you, feedback is always welcome!